Probably every parent knows that feeling – we're in a shop, doing groceries with our child, when suddenly it disappears. The seconds of horror just to find out that the toddler has run into another aisle. Many of our staff have children and have unfortunately experienced the fear associated with a child getting lost.
Prevention and conversation are the key
Being experts in security and safety, and providing it e.g. in shopping centres, we decided to meet with preschoolers to talk about safety rules in shops and large gatherings. How do you behave in a mall? How not to get lost? What should we do if we do get lost? How to safely use escalators or a move around car park? What should we do if a stranger wants to leave the shop area with us?
We spent June talking to more than 600 pre-school children. We prepared a simple, colourful presentation that illustrated the rules and places discussed. We started by asking kids if they visit shopping centres, and if so for what purpose. After all, it's not just about buying food, new clothes or toys, but also about going to the cinema, eating, entertainment zones. We also asked if they had ever got lost. Almost all the toddlers admitted that at least once they got separated from their guardians and could not find them. Kids aged 3-7 are very clever, observant and curious about the world, and it is really worth talking to them openly (age-wise).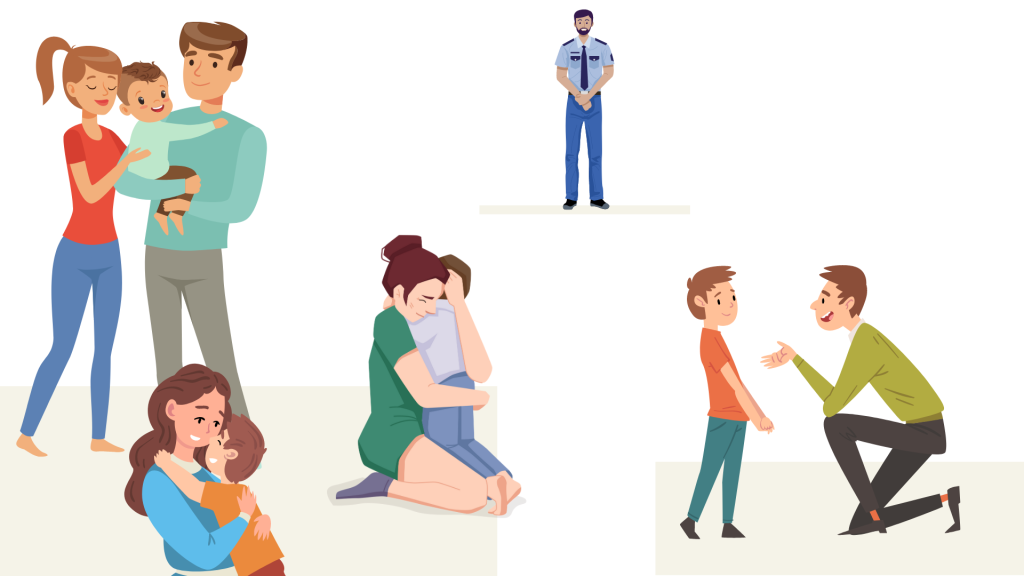 Three rules
The children were also able to point out what behaviour is not safe in a large group of people and why. Doing that, they prove that they understand what hazards there are and how to avoid them. After discussing the process of shopping together and giving some tips (shopping lists, cooperation with a parent, accepting refusal), we moved on to the most important point – what to do if you get lost.
We emphasise the 3 most important things:
– we always remain in eye contact with the guardian – "I see the parent, the parent sees me".
– I can introduce myself – "my name is"
– "when I get lost, I go to the security guard or cashier" – we emphasise that in a shopping centre it is safest to approach the person who works there. By being able to use walkie-talkies and being trained for such situations, the security guard or shop attendant is able to react quickly and start looking for the carer straight away, as well as ensuring the child's safety.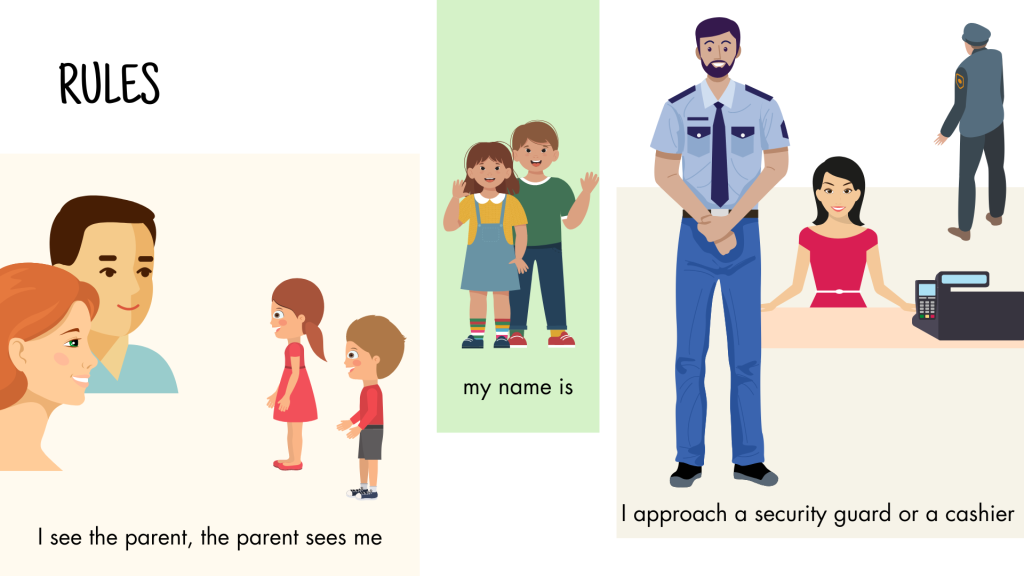 "Fancy a candy?"
Also part of our meetings is a discussion about strangers wanting to make contact with us, offering sweets or encouraging us to leave or get in a car with them. We were horrified to hear stories of 6-year-olds being approached by a man in a park or a being bug by someone in a shopping mall. While an assertive child can be much more difficult to deal with for a parent, being able to say a clear, firm 'no' is an important ability for a child. With this in mind, we even did a shouting exercise! We asked the children to scream very loudly and that this could scare unfriendly people away. Fortunately, you can see that some of the parents are already talking to their kids, because some children knew that they could scream, kick and bite in a threatening situation.

Car park, lift, escalator….
After the serious topics, we moved on to slightly easier ones – in the lift, we only push one particular button, we don't jump, we move it along with an adult; the escalator is great because it goes by itself, but we don't hook our feet on the side brushes, we don't run against the current. Instead, we can stand on the right side so that the left side is free for people who are in a hurry. Even your parents may not know this rule, share it with them! We also discussed parking behaviour and gave hints to help parents – you can remember the level or colour of the car park, the location of the car; shopping-weary parents will be happy with such hints!
Let's involve our children in a very wide range of 'help' – let them prepare the shopping list with us (younger children can draw them), let them push the trolley or put set items in it, let them guide us along the cars in the car park or buckle themselves into the car seat while we unpack the shopping. In this way, toddlers feel important and needed, more cooperative, and this translates into greater independence.
We are very pleased with the positive reception of the campaign by children, teachers, directors and parents alike. We hope that if the little ones happen to get lost, they will know what to do and will quickly return to their guardians.
Have safe holidays!