Fighters Jindra and Tomáš
At the beginning of this year, we again launched nominations for this year's M2C People project, when we were again looking for a child fighter who deserved our help. In the end, we selected two fighters from the nominations received, Jindra and Tomáš, to whom we will concentrate our help this year. We will thus divide the individual financial donations equally between these fighters.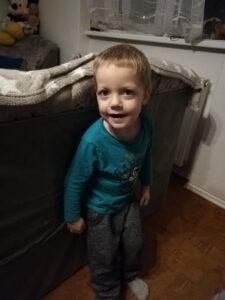 The first fighter is 6-year-old Jindra, who has his own world. After a financially and time-consuming walk to various doctors and examinations, the parents were informed three years ago of his diagnosis, namely a congenital brain defect of the autism spectrum of the 2nd degree (moderate autism). Little Jindra had a hard time learning to talk, walk and do all the common things young children do. Now Jindra goes to a special kindergarten with the support of an assistant teacher, who teaches Jindra and accompanies him from his own world to "normal life", accompanying not only Jindra but also his parents, who are trying to get closer to Jindra's world. Jindra needs constant care, he has a large number of other examinations by medical specialists, all are assisted by other specialists such as a speech therapist or a psychologist. Jindra requires all-day care with a great deal of patience from his loving family.
The second fighter is Tomáš, a very skilful boy who, however, needs constant supervision and care due to a diagnosed autism spectrum disorder. He goes to the eighth grade of primary school, where he is accompanied by a teaching assistant. For six years now, she has been visiting the Morning Care Center twice a week, where she learns social skills, communicates with other children and adults, and practices daily tasks and situations she may experience. He is a bright boy with an excellent memory, but he is closed and does not say out loud and in front of others his opinion or answer, pain or worry. He likes sports, especially football and hockey. He monitors all matches, has a complete overview of players and their transfers, maps stadiums throughout the country and would like to visit them all over time. In September last year, an unfortunate event took place, which greatly affected Tomáš and his parents. His mother had a serious injury, was treated in hospital for a month, and all the care of daily life and online teaching was up to his father. Bravely, though not easily and without problems, they both dealt with it.